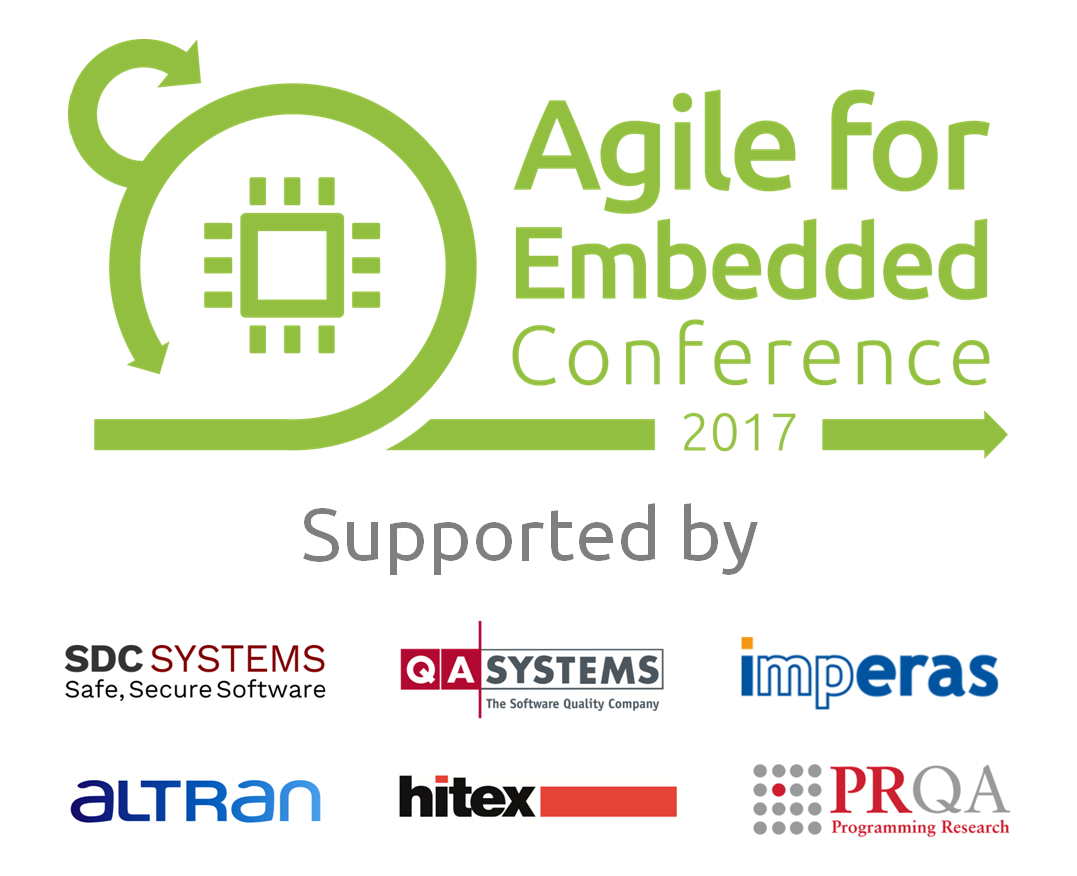 Our conference speakers
The day includes presentations by guest speakers from the industry, as well as a limited number of presentations from some sponsors.
Niall Cooling, Managing Director, Feabhas
Niall Cooling is a Chartered Engineer and MD at Feabhas, the UK's leading independent provider of training and consultancy for real-time embedded systems development and software competency. 
Niall delivers training and provides consultancy and mentoring to a wide variety of electronics companies ranging from smart metering, industrial control, telecommunications and defence. 
He is also a regular guest speaker at industry conferences and events throughout the world and has particular interest in establishing a competency framework for Embedded Software Engineering and in Agile for Embedded.
Daniel Laird, Head of Embedded Software, Ericsson Television Ltd
Dan has over 16 years engineering experience within the Broadcast TV and Digital Television sectors. During this time, he has worked on a variety of software projects using a number of different technologies, new tools and languages, including Agile software development and the Agile manifesto. 
As the Head of Embedded Software at Ericsson Television, Dan is responsible for the delivery of embedded software, which enables the products to continue to be market-leading and meet customer demand. He leads a team of around 50 permanent staff and a number of contract staff. 
His journey towards Agile Software Development began five years ago when a large 'waterfall' project completed much later than planned.  As a result, he has valuable practical insights into understanding and addressing the challenges of working in a mixed discipline (Hardware, Firmware, Software), multi team environment.
Matt Davis, Managing Director, QA Systems
Matt started his professional career in software quality assurance at IPL - a leading independent UK software and systems house. As a qualified software auditor, he worked for 5 years on multi-million pound projects from business critical telecoms to safety critical systems. Since 1996, he has developed and globally marketed embedded unit and integration testing solutions for a diverse range of business safety-critical customers. He left IPL as Products Partner Manager to join QA Systems with the acquisition of the testing products business unit in 2012.
Rod Chapman, Principal Engineer, Intelligent Systems Expertise Centre, Altran UK
Rod Chapman is a Principal Engineer in the Intelligent Systems Expertise Centre of Altran UK. He specializes in the design, implementation and verification of high-integrity software.
For many years, Rod led the programming language and software verification research group at Altran, and has more recently led Altran's efforts to merge the best of the Lean, Agile and Formal development approaches to form a single coherent whole.
He is a regular and renowned speaker on these topics, and is a Fellow of both the BCS and the IET.
Simon Davidmann, CEO, Imperas
Simon Davidmann has been working on simulators and EDA products since 1978. He is founder and CEO of Imperas and initiator of Open Virtual Platforms- the place for Fast Processor Models. Prior to founding Imperas, Simon was a VP in Synopsys following its successful acquisition of Co-Design Automation, the developer of SystemVerilog. Prior to founding Co-Design Automation, Simon was an executive or European GM with 5 US-based EDA startups including Chronologic Simulation, which pioneered the compiled code simulator VCS, and Ambit, which was acquired by Cadence for $280M. Simon was one of the original developers of the HILO logic simulation system, co-authored the definitive book on SystemVerilog, and is a visiting Professor of Digital Systems at Queen Mary, University of London.
Rod Sinclair, Electronics Manager & Ian Jordan, Technical Lead, Dyson
Rod currently runs the Software Development Department within Dyson. His responsibilities within this rapidly growing department include the generation of their software development process, and over sight of all software projects undertaken. He has over 15 years experience in the real time embedded software engineering arena, including telecommunications, avionics/aerospace and consumer electronics.
Ian has worked in the software industry for over 25 years. He has knowledge of the whole software lifecycle from initial requirements through to post delivery customer support. Ian has a track record as an architect, developer, team leader and manager and has successfully delivered products using multiple development methodologies. Ian is passionately committed to continual improvement and during his time at Dyson has led transitions to a scrum-agile methodology.