Feabhas is delighted to be supporting this year's Hitex ARM User Conference. 
Measuring software quality - Feabhas technical presentation 
If you want to learn more about measuring software quality, please come along at 12.10.
We will be describing a quality framework, and addressing the tools and techniques available to measure and enforce the different aspects of software quality.
Not yet registered? Please click here.
Meet the team and enter the prize draw
This yea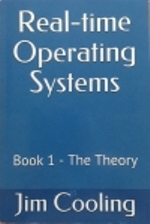 r, we are giving away two signed copies of 'Real-time Operating Systems: Book 1 - The Theory (The engineering of real-time embedded systems)'. This book deals with the fundamentals of operating systems for use in real-time embedded systems.
It is aimed at those who wish to develop RTOS-based designs, using either commercial or free products as it covers the key 'nuts and bolts' of RTOS structures and usage. 
Could you be one of the lucky winners?
To enter, please visit our stand and leave your business card.