Additional information
Available for on-site delivery only. Can be delivered remotely or Face-to-Face.
In today's increasingly competitive marketplace, many organisations are turning to systems engineering practices to improve their responsiveness to the needs and expectations of their stakeholders.

The SysML was defined as a subset and extension of UML2.0 designed to meet the needs of Systems Engineers. The aim is to produce a unified language for describing systems.

This four day course introduces the fundamental practices of Systems Engineering, using the SysML as its notation.
It covers the techniques and methodologies of Systems Engineering in a real-time embedded environment using SysML 1.5. The course is a mixture of lectures and practical exercises.

Course objectives:
To understand the importance of Systems Engineering to a project
To present the core concepts of Systems Engineering
To give an overview of the Systems Engineering process
To introduce the SysML notation
Delegates will learn:
Requirements analysis techniques
How to define system architectures
Modelling system dynamic behaviour
Techniques for analysing system performance
The SysML notation
Pre-requisites:
Working knowledge of UML is useful, but not essential.

Who should attend?
The course is designed for Systems Engineers who wish to use the SysML in defining their systems.
The course is also recommended for engineers and managers who are responsible for delivering systems with high software content.
It can also be beneficial for systems process engineers

Duration:
Course materials:
Course workshop:
During the course, delegates will participate in individual and group exercises to illustrate and reinforce lecture material.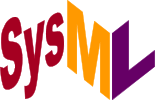 Introduction to Systems Engineering
What is Systems Engineering?
Concepts of SE
'Cradle to grave' engineering
The Systems V-Model
Differences between UML2.0 and SysML
SysML as a subset of UML2.0
Extensions to UML2.0
Requirements Analysis
'Traditional' vs. Viewpoint-oriented requirements
Requirements Diagram

Modelling 'traditional' requirements

Use Case model

Use case levels
Goal-oriented use cases
Defining Use Case Descriptions

System Context Model
System Modes model
Defining System Structure
Package Diagram
Block Definition Diagrams

Defining system logical structure

Internal Block Diagrams

Defining internal architecture
Comparison with UML2.0 Structure classes

Ports and Flows

Standard Ports
Atomic Flow ports and Item flows
Non-Atomic Flow ports and Flow specifications
Interfaces
System Dynamics Modelling
Sequence Diagrams
Activity Diagrams
State Diagrams
Analysing system performance
Constraints modelling

Parametric models
Allocating mathematical models to system elements
Standards
The Pragma+ process for SE